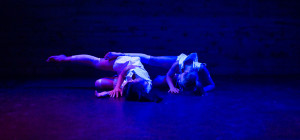 Ge Bai
graduated from Shenyang Peking Opera Academy. He has performed as a principal member of the Shenyang Peking Opera Company, touring worldwide and earning national prizes for his performances. In 2001 Bai performed to the theme song of "Crouching Tiger, Hidden Dragon" at the Academy Awards. Bai is presently working with the Cirque du Soleil production 'KA" at the MGM Grand in Las Vegas.
Kelly Buwalda
Originally from Indiana, Kelly graduated magna cum laude from Hope College (Holland, MI) with degrees in Dance and Psychology, and is currently dancing and teaching in NYC. She has worked with these artists: Erin Dudley, Amanda Drozer, Stephanie Tack, Antonio Ramos, Chris Ferris, Stephan Koplowitz, and Julio Rivera; and toured to Belgium and Mexico with Aerial Dance Theater (Co-Artistic Directors Steven Iannacone and Linda Graham). Kelly is a teaching artist for National Dance Institute, founded by Jacques D'Amboise, and continues to develop her own solo work which she has shown at the University of San Juan in Puerto Rico, Brooklyn Arts Exchange, and Movement Research's Open Performance. She has been working with MEI-BE WHATever since 2006, including performances at Tribeca Performing Arts Center, 2007 NY BUTOH Festival at CAVE, PS122, Dance New Amsterdam and in a 6-cities tour to Northern Italy.
Samantha Chan
is a graduate of Connecticut College where she double majored in Dance and Chinese Language & Literature. She has been a guest teacher at the Beijing Dance Academy and Northeast Normal University in China.
Owen David
Born in Manila, and started dance while a student at Brown University, where he developed and performed repertory works by companies such as Misnomer Dance Theater, Troika Ranch, and Pilobolus. Owen was a member of Dance Extension and Fusion Dance Company, and received a Weston Award for his artistic contributions to the dance community at Brown. In addition to dance, Owen is interested in social enterprise and the arts, and he would love to have a conversation with you about creative industries and urban development. He holds a BA in International Relations and Economic Development, and currently works as a Capital Analyst for the City of New York.
Junichi Fukuda
is a native of Japan. Junichi trained at The Boston Conservatory where he received a BFA in Dance. Upon graduation, Junichi moved to NYC and became a member of Ballet Tech, under the direction of Eliot Feld. Later, he joined Michael Smuin's company, Smuin Ballet/SF as a soloist. Junichi has worked with leading American choreographers such as Jacqulyn Buglisi, Colin Connor, Sean Curran, Eliot Feld, Jessica Lang, Murray Louis, Lar Lubovitch, Daniel Pelzig, Igal Perry, and Michael Smuin. He has returned to NYC to dance in Lar Lubovitch Dance Company. Junichi is currently a member of Buglisi Dance Theatre, NY2 Dance, MEI-BE WHATever and Peridance Ensemble where he is featured in many roles. www.fukudance.com
Kathleen Kelley
Originally from Raleigh, NC. She graduated Summa Cum Laude with a BFA in Dance and a BA in Psychology from the University of North Carolina at Greensboro. She has performed professionally with Deganit Shemy, KDNY, Amanda Selwin, Stephanie Blackmon Woodbeck, Propel-Her Dance Collective, John Gamble Dance Theater and b.j.sullivan. Her choreography has been shown at several venues in North Carolina, South Carolina, and New York, including BAX/Brooklyn Arts Exchange, Triskelion Arts (WAXworks), Durham Arts Council, Saint Mary's School (Raleigh, NC), The Wellness Center for the Arts (Durham, NC), and Coker College (Hartsville, SC). She is a founder of Labor Force Dances with fellow UNC-G alum Stephanie Blackmon Woodbeck. In addition to her performing and choreographic work, she pursues a complementary career in dance education and administration–Kathleen also works as the Programs Coordinator in the Educational Department of Dance New Amsterdam and as the Community Program Coordinator for Gina Gibney Dance.
David Thomson (Guest Artist)
a native New Yorker, began dancing at Haverford/Bryn Mawr Colleges and later received a degree in Liberal Arts from SUNY Purchase. He has had the privilege of working and collaborating with over thirty diverse artists and companies including Mel Wong, Jane Comfort, Bebe Miller, Marta Renzi, Kevin Wynn, Michael Dinwiddie, Wendy Perron, Remy Charlip, Lee Nagrin, Susan Rethorst, Irene Hultman, David Roussève, Robert Wilson, Laurie Anderson, Michel Laub/Remote Control (Europe), Ralph Lemon, Bo Madvig (Denmark), Sally Silvers and the Lavender Light Gospel Choir. From 1987-93, as a member of Trisha Brown Company, he toured extensively throughout the United States, Europe, Asia and the former Soviet Union. Mr. Thomson has performed downtown, off Broadway and in London's West End with the acclaimed a cappella performance group Hot Mouth, of which he is a founding member. He has taught both nationally and internationally, and was guest faculty at Sarah Lawrence College from 1994-95. His work has been presented in New York and Europe and during the last two years he has worked on TheForestProject, an on-going series of collaborations with various artists. He was awarded a 2001 New York Dance and Performance (Bessie) Award for Sustained Achievement in Performance.
Cassandra Taylor
Born and raised in Western Connecticut. She received a BFA in Contemporary Dance from North Carolina School of the Arts in 2003. Cassandra has worked with various companies and choreographers in and around New York such as MOMIX, The Chase Brock Experience, Nicole Berger, Teri and Oliver Steele, Adam Battelstein and Celia Rowlson-Hall. With MOMIX she toured extensively since 2004, performing in their shows Botanica and Lunar Sea/Sun Flower Moon (both of which she assisted in the creation), Best of MOMIX and Passion. Cassandra has also appeared in the Metropolitan Opera's production of The Magic Flute directed by Julie Taylor and choreographed by Mark Dendy during the 2004-2005 season. She was a dancer and assistant choreographer for Adam Green's music video, "Morning After Midnight" and a dancer in MGMT's "Electric Feel" music video. Cassandra is also a singer and actress.