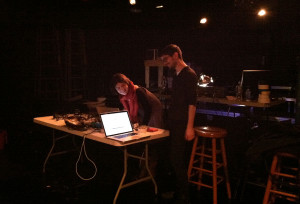 Ausra Bankauskaite and Mante Maskoliunaite (Headpiece designer)
Studied Jewelry design in Vilnius Academy of Fine Arts, Lithuania. Working together since 2008 under the name "aka jewellery". Their goal is to bring more people to appreciate contemporary jewelry. Make it affordable and create a way of wearing a little piece art every day and show that jewelry can be not only an accessory, but can exist as a form of conceptual and contemporary art.
Eric Barry Drasin (Media artist)
Is a Brooklyn-based artist and curator working at the intersection of digital media, performance and installation.   Rooted in the Expanded Cinema tradition, his work explores the relationship between systems of consciousness and synesthetic audiovisual environments. Eric is a primary organizer of the "Fast Food" video art collective in Brooklyn, The Bushwick Silence Club, as well as the curator of a number of New Media performance events, Including Chrome Candles Viewing Hour, and the Improvised Electronics Round Robin.
Julija Frodina (Costume Consultant/Designer)
Is an award wining fashion designer. She has participated in numerous fashion shows, festivals and fashion projects in Lithuania, Estonia and other countries. Julija got her education in fashion, jewelry and shoes design shoe design from prestigious universities in Lithuania, Israel and Paris, France.
Sam Gassman (Set Design)
Is a sculptor, set designer and performance artist. His sets and objects have also appeared at BAAD!/Bronx Academy of Arts & Dance, P.S. 122, 100 Grand Street, Cornell University and at The Joyce Theater's Altogether Different Festival 2003 for choreographer Keely Garfield. Gassman was also a set designer and performer in RING, an installation and collaborative performance with Arthur Aviles Typical Theater and Compagnie Faim de Siecle co-produced by Pepatian at the Bronx Museum of the Arts. For the past four summers, he has been an artist-in-residence at the University of Iowa with artist Chunghi Choo . At the University, he initiated the annual S&AM Metal Arts award for graduate and undergraduate students. His work been presented in the International Metal Artists Invitational Exhibition in Seoul, Korea.
Mika Inatome (Costume Designer)
Was born in Osaka, Japan to a 100 year old textile family business. . Inatome creates custom-designed bridal gowns, using fine fabrics and exquisite detail to suit women of all sizes and figures. Hailed by the Zagat Survey, her 'luxe creations walk the line between timeless and contemporary,' enabling each woman to look her wedding day best without losing her identity.
Nicolas Jenkins (Video/Media artist)
Videos have been screened extensively in festivals and galleries across North America and Europe, places as diverse as the Paris Pompidou Center and NYC's Deitch Projects.  One of his videos is in the permanent collection of the National Gallery Of Canada and another was shown on PBS.  He spent two years collaborating with Genesis P-Orridge creating music videos and visuals for the band PSYCHIC TV (PTV3).  Between 2005-2007 he was VJ for the band PSYCHIC TV (PTV3). During that period Nicolas collaborated with Genesis P-Orridge creating music videos and visuals for PTV3's live shows. He also accompanied them on their tour to Europe and Russia being in charge of video projections. For the past three years he has been covering the Sundance and Toronto International Film Festival for Paper Magazine.
Eric Koziol (Video/Media artist)
Is a San Francisco based video artist focusing on dance for camera, media environments for live performance, and documentary projects which feature artists and designers. Eric began his career making music videos for artists such as Nine Inch Nails, Public Enemy, De La Soul, Soundgarden and Diamanda Galas. His projected visuals have been seen in concert venues worldwide with touring bands DJ Shadow, Ministry and Meat Beat Manifesto. Koziol's dance videos and collaborative multi-media performances have been exhibited in such venues as P.S. 122, Anthology Film Archives & Walter Reade Theater at Lincoln Center in New York, The Hammer Museum & the Getty Center in Los Angeles, American Dance Festival in Durham NC, The Asian Art Museum, Counter Pulse, Artists Television Access, & Kanbar Hall in San Francisco plus international festivals in the Netherlands, Belgium, France, England, Italy, Portugal, Greece, Russia, and Australia. Eric's collaborators include dancer/choreographers Sherwood Chen, Amara Tabor-Smith, Shinichi Iova-Koga, Paige Sorvillo, and Mei-Yin Ng/MEI-BE WHATever.
Eric's art making has been supported by The Asian Art Museum, Film Arts Foundation, Creative Work Fund & CA$H Grant/Dancer's Group in San Francisco, Lower Manhattan Cultural Council and P.S. 122 in New York, LEAP Festival Liverpool U.K., Rotterdam International Film Festival, and the Monaco Dance and Technology Forum in Europe.
James Lo (sound design)
Is a product of suburban Detroit and 9 years of undergraduate meanderings through the New England Conservatory of Music, Columbia College and the Columbia School of General Studies. He received New York Dance and Performance (BESSIE) Awards for John Jasperse's furnished/unfurnished and for Donna Uchizono's State of Heads, and has created sound scores for choreographers Molly Lieber/Eleanor Smith, Sarah Michelson, Heather Olson, Maria Hassabi, Ori Flomin, Jennifer Monson, Levi Gonzalez, Ralph Lemon, RoseAnne Spradlin, and Lucy Guerin. As a drummer, he played in the bands Chavez and Live Skull.
Eric Mika (Robotic/Media artist)
Makes art for machines. His work examines the possibilities, motivations, and interactions of virtual space in digital and physical form. He is creative technologist at Local Projects, a museum and public space design firm, and has created hardware and software interactions for Anthony McCall, Eyebeam, and Wired. Recently, Eric presented on artistic programming applications at O'Reilly Strata. His work has been exhibited at the Anthology Film Archives, the Hyde Park Art Center, 319 Scholes, and Palais Kabelwerk in Vienna. He has presented at Dorkbot, Art && Code, and the O'Reilly Strata conference. In Chicago, he was a co-founder of Plural Design and graduated with a BS from Northwestern, double majoring in Journalism and Animate Arts. He holds an MPS from NYU's Interactive Telecommunications Program.
Hillary Raphael (Author, performing artist)
is the author the cult novel I LOVE LORD BUDDHA, the definitive butoh guide OUTCAST SAMURAI DANCER, and the forthcoming BACKPACKER.
Matt Rocker (Composer/sound designer)
holds a B.A. in Music Composition and Theory from the University of Minnesota, and a Masters of Music from New York University. His music has been performed at Lincoln Center and CBGB's in New York, Warner Brothers Studios in Hollywood, the 2002 Olympic Games in Salt Lake City, on the prime time NBC show "Ed", and various radio stations and dive bars throughout the country. Recently Rocker's songs have been covered by several established artists, including Grammy winner Brian Setzer of the Stray Cats. He contributed both sound design and musical performance to the "Cremaster Cycle" exhibition by artist Matthew Barney. He has worked with John Jasper in "California", and Sarah Michelson's "Daylight".
Sofy Yuditskaya (@horusVacui) (Robotic/Media artist)
is a non-disciplinary researcher and practitioner, examining the nature of human actions in relationship to their fragmented digital representations. Her practice weaves together a variety of performance types, including musical performance with her own transmission based instruments, the uttered word, interactive dance, techno-futuristic occult rituals, and a variety of site specific social experiments.
The BOW project
Emmanuel Baily (Belgium)
Earned a first prize at the Conservatoire Royal de Musique of Liège in classical guitar and continued through a postgraduate diploma. He obtained a degree in Chamber music. He works as a composer, improviser, performer and teacher with a range of genres and musical groups in Liège, Brussels,etc.. and has worked as a puppeteer at the Toon Theatre. He plays regular concerts with groups which include Adam's Dream, Bathyscaphe II, Bay Lee Quartet and his own group Wang Wei Quartet which he founded in 2006 and which did integrate Cambodian Hip Hop dancer Yiphun Chiem in december 2008. Emmanuel Baily's work focuses on building a bridge to unite ancient western music with the infinite subtleties of movement within the Chinese poetic language. Wang Wei Quartet was created in 2006: Xavier Rogé* (drums), Laurent Meunier (saxophones), Marine Horbaczewski (cello) and Emmanuel Baily (guitar and composition)
Rannvá Káradóttir (Denmark)
Is a Faroese visual dance artist based in Copenhagen and London. Since graduating from London Contemporary Dance School in 2004, she has been working in England, Germany, Canada, Denmark and her home country Faroe Islands, with projects to date including stage works, dance-film, improvised performances, site specific pieces and integrated video and installations. Rannva is currently taking an MA in Performance Design at London University of Arts, Central Saint Martins. Her lates dance short – film Memotekid was made in collaboration with visual artis Marianna Mørkøre, and is currently been screened internationally.
Cathy Seago (UK)
Is the director of the interdisciplinary dance company Evolving Motion, receiving awards in support of choreographic research and performance since 1998 in the UK, the US and Southeast Asia. Evolving Motion have been Resident Artists at the Kuala Lumpur Performing Arts Centre, Malaysia (09), The Blue Elephant Theatre London (08), ODT Singapore (07). Recent works have toured in the South East of England and London, Edinburgh, Paris, Taiwan and Singapore. Cathy Seago is a Lecturer in Choreography and Dance at The University of Winchester.
Shi Jing Xin (China)
Graduated from the Department of Choreography at the Beijing Dance Academy in 2003, and obtained a Masters degree in 2006. From 2005 to 2006,She received a two-year scholarship from the French Cultural Centre in Beijing where she had an opportunity to participate in a choreographic workshop that was organized by Susan Buirge. During her study, she participated in local theatrical performances, ballets, operas, drama, concerts and other art forms in different attempts at innovation. What is most important to her as a choreographer is to be engaged in traditional dance while creating a new language of dance. Ms Shi is one of the dance director of the Beijing 2008 Olympic Games opening ceremony.